Oh my goodness, so I have a lot of catching up to do in order to get you to this point in the weekend. I suppose for now I will just discuss how totally awesome Saturday was. (well except for the fact that I have lost my newish sunglasses in all my busyness :( )
I literally had something going on ALL day and it was GLORIOUS! :)
I started Saturday morning out with a free Insanity workout at 9 am at an Arthur Murray Dance Studio located in town.
luckily I was able to convince Mrs. Nicole to come with me, even though it was kinda early for a Saturday morning! The class we did was called cardio recovery. I had no idea what that meant but I heard it was going to be a free class (Apparently they are free every Saturday morning, so if you're in terested in going with me let me know!). Basically we did some really deep stretching, yoga style-ish and a TON of squat type exercises. It really burned, and this morning I could hardly get out of bed. Michael even laughed at me as I rolled to get out of the car to check the mailbox today!! So I guess it was a good workout!! After the 30 minute class we got to try a free sample of "
Shakeology
", the chocolate was really good surprisingly!
After class I rushed home to spend some time with my girl Jessica. She was having a hard day so we spent some time together chatting and then watched the new-er "Alice in Wonderland"
Then it was time for the event that I had never done before. Nicole and Drew's neighbors own a winery and they asked me if I wanted to come out to their farm and help them bottle some wine. I was definitely interested and took them up on their offer!! What a great experience! We were bottling a 2006 (which is the year I graduated high school, weird!) wine and it was pretty cool! They make one wine and it is a red mix that has won awards in competitions! I have never been a fan of red wine but I liked this one! Maybe it's because I put some sweat into the creation of it! The couple that owns the winery are super nice and hospitable, and had a cookout for us afterward! Here are some pictures of the process:
The bottles are first rinsed and placed here to dry before being filled up
This is where the filling takes place
The winery's corks
Nicole and I taking a break and sipping on some extra wine!! (my first time liking red wine!!)
Nicole doing awesome work at her filling up job!
Norma and I had the job of drying the bottles after being corked
Collin, the owner, corking the bottles
Working hard drying those bottles!
Then placing them in their case to be stacked! That day they bottled about 124 cases!! (12 bottles in a case!)
Once we ran out of bottles there was still extra wine, so they had these monsters to fill them up, this thing was HUGE!
AND I also met my first St. Bernard!! Isn't she a cutie, 9 years old and sweet as ever!
Oh, and this is so Kentucky, I love the baby horses in the summer!They were right outside the "Black Barn" (aka Black Barn Winery) barn <3
After a good few hours of bottling I headed back into town to meet the in-laws, Michael, and Andrea for dinner at Joe Bologna's, a local italian restaurant located in an old church building.
They are known for their HUGE breadsticks!! (WARNING: will leave you with garlic breath, ick!)
After dinner, despite feeling SUPER full Michael and I decided we needed to introduce his parents to Orange Leaf, so we headed on over! Everyone got a wide array of different flavors and toppings...oh well except for Michael's dad who got Vanilla and put like 10 chocolate chips on his, bahaha. I tried to compare it to going to a fancy restaurant and ordering chicken tenders, it made me sad!
which one is mine?!? the topping heavy one in the back !!
Then immediately after it was MOVIE time, with the Larsons!! We headed to Woodhill to see "Horrible Bosses". The movie made me chuckle, although it was kinda of crude and there was a good amount of dirty language, WARNING. But the guy who plays Charlie in "It's Always Sunny in Philadelphia" was hilarious AS USUAL!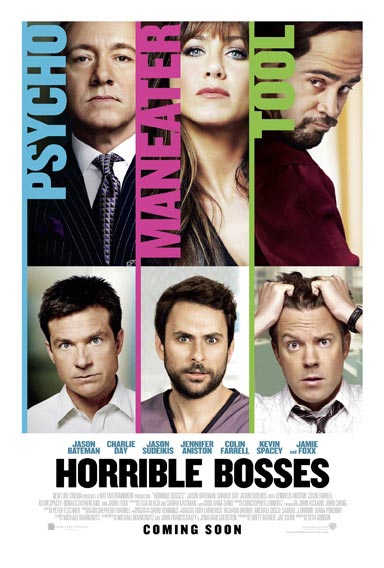 We ended up chatting with the Larsons until 12:30 in the parking lot when I finally decided I could no longer handle the lingering garlic and HAD to go home and thoroughly brush my teeth and swish my mouthwash!
All in all -- an AMAZING day -- I was definitely worn out -- in a good way!